The death of her father and the competitive desire to master songwriting and the music industry had pushed Barter into pursuing a guitar-driven life with obsessive attention and needs that never matched her achievements. Even as she found a creative and then personal partnership with her now husband, producer and one half of Holy Holy Oscar Dawson, Barter was essentially running to merely stand still.
These songs are all me. That's a story I can keep telling … a song I can keep singing on stage.

Ali Barter
"I did all of that in this really uncomfortable rewire-your-brain phase. I started playing music and I thought, 'It has to look like this this, it has to feel good, I have to look good', and it didn't," Barter says. "When I compared myself to other female musicians, or my husband, or just whoever was nearby, it was so uncomfortable. I had to be okay with me, which is what I've always struggled with, which goes back to why I drank."
Barter stewed in self-loathing throughout 2017, but in 2018 – when she started to honestly address her situation through songwriting – Barter felt a change take shape.
"I just did my best," she recalls, and songs started to emerge marked by self-lacerating honesty.
There was a buzzing takedown of a female and male musician having a drunken encounter called Backseat, then a defiant confession of vulnerability and persistence titled I Won't Lie. The dam had broken.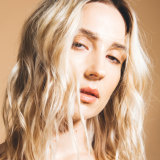 "That's when everything started to come out," Barter says. "I felt good because I had written something that I knew was true. It explained the push and the pull of admitting stuff about myself, of admitting that I'm not perfect, which is why I will lie, why I will f— up. I wasn't trying to be perfect."
Both tracks are included on Barter's just released second album, Hello, I'm Doing My Best. The record is defined by sustained bursts of biting honesty and self-revelation, but the mood is rarely sombre or the sound intimate. While Barter's vocal tracks are rawer, the arrangements have a raucous momentum and mosh-pit vitality.
"I love Sia and she does that thing where Chandelier is a massively dark song, but also anthemic and uplifting. That's how I like to experience music: my head full of sound, crying and laughing at the same time," Barter says. "I feel things intensely, like a teenager does, and that's what I want from my music when I make it and you listen to it."
Even when a lyric is "harrowing", as Barter describes those in Cocktail Bar, she's happy to have shared something defined by her honesty. The single Ur a Piece of S—t has a fists-raised breakdown where Barter lists childhood difficulties that she and her closest female friends might have gone through. It comes with a wink instead of a tear, and that's where the now vigilant musician is, even as her international profile grows more prominent.
"It is a good feeling because this is my life," Barter says. "These songs are all me. That's a story I can keep telling, a message I can keep giving, a song I can keep singing on stage."
Ali Barter plays Oxford Art Factory, Darlinghurst, on Friday, November 1; and the Corner Hotel, Richmond, on Friday, November 8.
Craig Mathieson is a TV, film and music writer for The Age and The Sydney Morning Herald.