As an aside, on Tuesday, he'll raise his sartorial flag as judge of the men's Fashions on the Field at Flemington. "I'm so excited to get to pass judgement on other men and how they dress," he says with a laugh that manages to seem good-hearted and menacing at the same time.
Feig was last here in 2011 with Bridesmaids, the film he credits with getting him out of "movie jail" after back-to-back flops. Back then, there was much chatter about the "riskiness" of making a female-led gross-out comedy, given the accepted, ahem, "wisdom" that women just aren't that funny.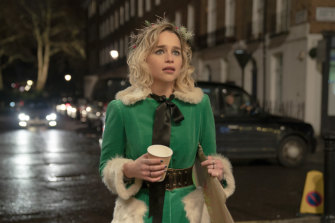 The great surprise of his latest film is that Emilia Clarke (best known as Daenerys Targaryen in Game of Thrones) is very funny indeed.
"She was so into it," he says of his star, who spends most of the movie – loosely based on the songs of George Michael – in an elf costume, "and she was great at it, because she wasn't trying to be funny.
"I can make anybody funny if they're not trying to be funny," he adds. "If they're trying to be funny it's all over, because they're working too hard. Trust the script."
Since Bridesmaids, Feig has gained a reputation as a women's director, having made successful comedies with Melissa McCarthy, Sandra Bullock, Anna Kendrick and others. But he also had the misfortune of being on the end of a sustained campaign against his gender-flipped reworking of Ghostbusters, which generated some of the most vitriolic, misogynistic and racist commentary social media has ever spawned.
So, on balance, are things looking up or not?
"It's definitely gotten better," he says. "There's more opportunities for female characters but I always say we should not be celebrating yet because there's such a long way to go.
"Hollywood is not an altruistic town – they won't do anything they don't think will make money. It took Bridesmaids to make money and Wonder Woman to go through the roof and Captain Marvel…
"Now," he adds, "is when we need to be going hard at it, creating more great roles for women in movies and getting more opportunities for women behind the camera. It's a critical time."
Last Christmas opens nationally on Thursday.
Follow the author on Facebook at karlquinnjournalist and on twitter @karlkwin
Karl Quinn is a senior culture writer at The Age and The Sydney Morning Herald.