That's an ethos to live by — though Joplin, sadly, did not, dying of an overdose at 27. The hedonistic times swallowed her up.
Not so punk rocker Patti Smith, one-time lover and lifelong artistic collaborator with Robert Mapplethorpe. Smith, the once sickly child, with a lazy left eye, "had this feeling that I was going to go beyond my body physical (sic)." She survived the Chelsea hotel and the gritty sixties, married, raised children, refused to be broken by the death of her husband, Fred "Sonic" Smith. She made music again, wrote memoirs — the latest, Year of the Monkey, explores grief, turning 70, climate change, insomnia and the "avalanche of toxicity" that presaged Donald Trump's election.
Joni Mitchell, whose album Blue is considered one of the greatest LPs, has just released a book of lyrics and drawings, Morning Glory on the Vine, because, she told a Canadian newspaper, "I sing my sorrow and I paint my joy." She recounted to the New Yorker recently how her male contemporaries in the 60s had warned her against baring too much of her soul: "Save something of yourself, Joni." The New Yorker journalist observed that in her lyrics Mitchell often characterises romantic love as a "sublime balm" that dulls the blues of living, but she is "endlessly frank about its limitations and challenges".
"Endlessly frank" also sums up Carly Simon, whose promotional interviews for her memoir Touched by the Sun are striking for their "don't bullshit yourself" — or your interviewer — quality. I was already inclined to bow to her authority on all things romantic — for so wickedly nailing the quality of conceit in her anthem, You're So Vain, and for her roll call of famous lovers that gets too exhausting to type somewhere around Warren Beatty and Mick Jagger. Now she's dishing the dirt on being "financially raped" by men including, allegedly, Harvey Weinstein. Simon told The Guardian Weinstein never paid her for a musical score and, worse, forced her to sing to an untuned guitar in front of Bill Clinton — whom she differentiates from the current hyper-sexed president because the former has charisma, is not an "ugly ape", and is therefore more likely than the latter to be the recipient of genuine invitations. The difference between the two presidents, she says, is that one has the capacity to wink at himself in the mirror, much like the mysterious man immortalised in You're So Vain. The other president has no such capacity.
A woman who parses sexual predators in the White House probably wouldn't qualify as spokeswoman for the #MeToo movement, in which some activists cling to simplistic narratives about male aggressors and female victims.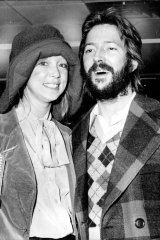 Nor would Pattie Boyd score that gig. She's the model and photographer for whose affections George Harrison and Eric Clapton duelled by guitar — and the reason I felt suddenly out of breath while reading a Good Weekend profile of her last year. I had always reckoned Harrison's achingly sensual Something and Clapton's strung-out, desperate Layla to be the two sexiest songs ever recorded. Until that article, I had no idea Boyd was the inspiration for both. As a young woman in the '60s, she wore a bland, almost vacant, beauty. It's only now, with Boyd in her 70s, that I, at least, see in her face a certain knowing, a something. Only now that she's finally exhibiting the photographs she snapped decades ago on a Polaroid and Hasselblad, when she meticulously documented history as men made great art and spun chaos around her.
Sure, she told the magazine, when she was a young model photographers would hit on her, but "you didn't submit and say, 'Oh must I?'" On Weinstein and #MeToo she says, "I don't know why these women don't just say, 'Fuck off, I'm not having a meeting with you in your dressing gown with nothing on underneath'."
After much painful exploration, we're probably getting closer to answering Boyd's question about how the Weinsteins of this world get to do their raping, financial and otherwise.
Boyd and the other old female rockers are veterans of trying not to bullshit themselves and when they did, taking responsibility for the fallout. It's as if by throwing out the old rule book of social mores, by holding nothing back, they knew they couldn't blame their occasional bad judgment on others.
They're still fearless — holding up a mirror, daring us to look. Still asking urgent questions.
Julie Szego is a regular columnist.